LADAKH: LAND OF MANY PASSES
'La' = pass, and 'daks' = many in the Bhoti language
Ladakh is situated North-West from New Delhi in the Indian Himalayas. It is part of the Indian state of Jammu & Kashmir. This large area of approximately 97'000 Km² is surrounded by the world's mightiest mountain ranges: the Great Himalaya, Karakoram, Trans-Himalayan with Ladakh, Stok and Zanskar ranges, and Western Himalayan ranges.
It is the land of many passes. Infact, 3 of the world's highest motorable roads are in Ladakh:  
Khardung-La, 5602m / 18380ft, the highest motorable road of the world!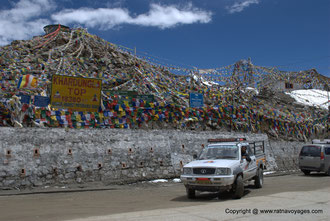 Taglang-La, 5358m / 17582ft:
Chang-La, 5360m / 17585ft:
Its characteristical landscapes of great high plains and deep valleys, barren rock formations, magical moon-land areas, beautiful high altitude lakes and majestic peaks inspired with a prevailingly Tibetan Buddhist culture make Ladakh so unique and fascinating.
The hilltop monasteries of Ladakh are one of the best living traditions of Tibetan Buddhism in the world today.
Formed by many tributaries, the main rivers of Ladakh are Indus, Shayok, Nubra, Syachen, and Zanskar.
Ladakh is one of the most elevated inhabited regions of the world lying at an altitude of 2'750m (9'000ft) at Kargil to 7'672m (25'170ft) at Saser Kangri in the Karakoram. Leh is the largest district and the friendly and charming capital of Ladakh.