KUSHOK BAKULA RINPOCHE AIRPORT, LEH, 3256m (10682ft)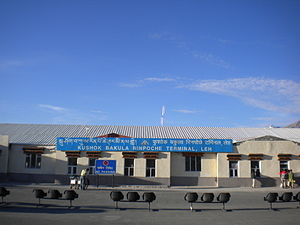 LEH AIRPORT:
Name: Kushok Bakula Rinpoche Airport, named after the Venerable Kushok Bakula Rinpoche whose 19th Incarnation was an important Indian and Ladakhi Statesman.
IATA Code: IXL
Altitude: 3,256m / 10,682ft making it one of the highest airports in the world above mean sea level.
Airport Type: Military and Public
Runway: 2,875m x 45m / 9434 x 150 feet (Asphalt)
Particular: the presence of mountain winds in the afternoon require all flights in Leh to take off and land in the morning.
Security: the security in Leh Airport is paramount given the ungoing situation with terrorism in Jammu&Kashmir and nearby Pakistan. Therefore, on flights departing from Leh, hand baggage is not permitted, with the exception of a camera or a laptop bag. Passengers also have to identify their check-in baggage after scanning, and before being loaded onto the aircraft. Additionally, a substantial number of police and the Indian Army patrol the airport.
AÉROPORT DE LEH:
Nom: Kushok Bakula Rinpoche Airport, après le Vénérable Kushok Bakula Rinpoche dont la 19m incarnation fut un important homme d'état de l'Inde et pour le Ladakh.
Code IATA: IXL
Altitude: 3,256m / 10,682ft étant ainsi un des plus élevés aéroports du monde s.n.m.
Type d'aéroport: Militaire et civil
Piste: 2,875m x 45m / 9,434 x 150 feet (bitume)
Particularité: à cause des vents de montagne presents dans l'après-midi, tous les vols à Leh, atterrissages et décollages, doivent être éffectués au matin.
Sécurité: la sécurité à l'aéroport de Leh est très importante à cause de la situation du terrorisme persistente dans l'état du Jammu&Kashmir et le Pakistan. Pour cette raison, sur les vols en départ de Leh, le bagage à main n'est pas autorisé, avec l'exception d'une bourse de photographie ou de laptop. Les passagers doivent en plus identifier leurs propres bagages après le check-in et le scanning et une autre fois avant qu'ils soient mis dans la soute de l'avion. Un important nombre d'agents de la police et du militaire contrôlent la zone de l'aéroport.
FLUGHAFEN LEH:
Name: Kushok Bakula Rinpoche Airport, der Namensgeber ist der Erw. Kushok Bakula Rinpoche, dessen 19. Inkarnation ein bedeutender indischer und ladakhischer Staatsman war.
IATA Code: IXL
Höhe: 3,256m / 10,682ft ü.M., womit der Flughafen von Leh einer der höchsten Flugplätze der Welt ist.
Art des Flughafens: militärisch und zivil
Piste: 2,875m x 45m / 9434 x 150 feet (Asfalt)
Besonderheit: aufgrund der am Nachmittag aufkommenden Bergwinde müssen alle Flüge in Leh, Ankunft und Abflug, am Morgen abgefertigt werden.
Sicherheit: die Sicherheit im Flughafen von Leh ist angesichts des latenten Terrorismus in Jammu&Kashmir und dem benachbarten Pakistan eine sehr wichtige Angelegenheit. Deshalb ist auf den Flügen ab Leh kein Handgepäck ausser einer Photo- oder Laptoptasche erlaubt. Die Passagiere müssen zudem ihre eigenen Gepäckstücke nach dem Check-in und Scanning noch einmal identifizieren, bevor diese im Frachtraum des Flugzeuges verstaut werden. Ausserdem kontrollieren stets eine grosse Anzahl von Polizei-und Militärposten das gesamte Flughafenareal.
AEROPORTO DI LEH:
Nome: Kushok Bakula Rinpoche Airport, nominato in onore al Venerable Kushok Bakula Rinpoche cui 19a incarnazione era un importante uomo di stato dell'India e per il Ladakh.
Codice IATA: IXL
Altitudine: 3,256m / 10,682ft essendo uno dei più alti aeroporti al mondo s.l.m.
Tipo di aeroporto: Militare e civile
Pista: 2,875m x 45m / 9,434 x 150 feet (asfalto)
Particolare: a causa dei venti di montagna presenti nel pomeriggio tutti i voli a Leh, arrivi e partenze, devono essere effettuati al mattino.
Sicurezza: la sicurezza all'aeroporto di Leh è molto importante a causa della costante situazione di terrorismo nello stato del Jammu&Kashmir e vicino Pakistan. Per questa ragione sui voli in partenza da Leh il bagaglio a mano non è concesso, salvo una borsa per la fotocamera o per il laptop. I passeggeri devono inoltre identificare il proprio bagaglio dopo il check-in e lo scanning e un'altra volta prima che venga messo in stiva. Un importante numero di agenti di polizia e del militare controllano la zona dell'aeroporto.