Ladakh Young Buddhist Association
34th Kalachakra Initiation by His Holiness XIVth Dalai Lama in Bodhgaya, 2017
Kalachakra in Bodhgaya, Bihar, India from January 3 to 14: His Holiness will be giving the Kalachakra at the request of the Kashag of the Central Tibetan Administration. During the first three days of the Kalachakra, from January 3 to 5, His Holiness the Dalai Lama, along with the monks of Namgyal Monastery and senior lamas, will conduct rituals which prepare and consecrate the venue. These include chanting of prayers, creation of the sand mandala and other rituals. From January 6 to 8, His Holiness will give preliminary teachings on Shantideva's A Guide to the Bodhisattva's Way of Life (chodjug) and Kamalashila's The Middling States of Meditation (gomrim barpa). On January 9, the Kalachakra Ritual Dance will be performed by the monks of Namgyal Monastery. His Holiness will confer the Kalachakra Initiation from January 10 to 13. On January 14, a long life empowerment (tsewang) and a ceremony offering prayers for the long life of His Holiness the Dalai Lama will be performed.
See our dedicated page: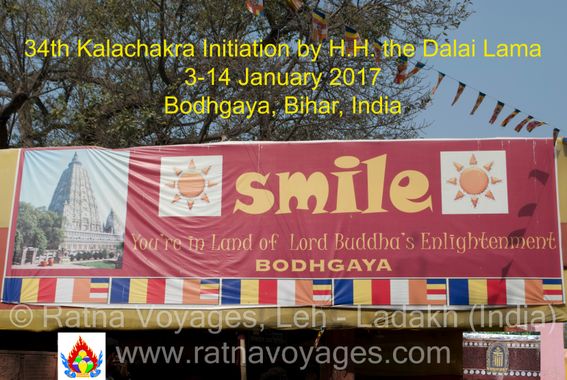 TIBETAN SOS CHILDREN'S VILLAGES AND SCHOOLS
PLEASE SPONSOR THE STUDIES OF A TIBETAN REFUGEE CHILD!
Mandala Centro Studi Tibetani
via Martinetti 7 - 20147 MILANO
centromandala@libero.it
Istituto Kalachakra
Via Polar 68
6932 Breganzona (Lugano, Svizzera
Insegnamenti di filosofia buddhista tibetana secondo la scuola di S.S. il DALAI LAMA con il Ven. Geshe Lharampa Lobsang Sherab
Meditazione e puja
Cerimonie e Feste di tradizione buddhista tibetana
Conferenze
Iniziative umanitarie ed interreligiose 
Biblioteca
Viaggi
Corso di lingua tibetana in privato
Per gli aggiornamenti del programma, consultate p.f. il sito Internet: www.kalachakralugano.org